CPR's 3rd Graduation Ceremony at Holiday Inn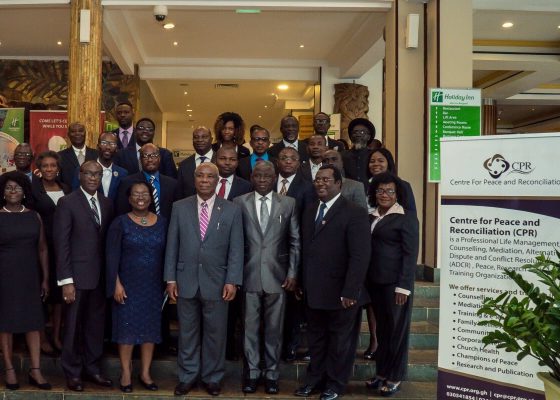 The Centre for Peace and Reconciliation (CPR) held its 3rd graduation ceremony on Saturday, January 20th, 2018 at Holiday Inn, Accra.
The ceremony was held to honor 53 graduands who successfully completed their training at the Foundation and Advanced levels of the centre's Alternative Dispute and Conflict Resolution (ADCR) certification programme in 2017.
Graduands were recognized for their achievements in front of our honored guests, media, classmates, and family members.
This ceremony also saw the launching of other exciting programmes and activities of the Centre for Peace and Reconciliation (CPR).
As with our previous graduation ceremonies, we had in attendance high dignitaries from Government, Academia, Judiciary, Security agencies, and other key stakeholders in conflict resolution and peacebuilding.
Below are some photos from the graduation ceremony. If you'd like to be part of the next CPR graduation ceremony, start your journey today. Please contact us now for upcoming CPR training dates and venues.
About CPR's ADCR Training & Certification
Conflict intervention though has been identified as one of the most important solutions for the ills of the society today. Acquisition of the skill set has become quite difficult and seemingly elusive because of lack of expert training and resources. Accra, Ghana-based Centre for Peace and Reconciliation, one of the leading training organizations with this unique expertise, has developed series of programmes, instruments and professional resources that are making it possible.
For over a decade now, Centre for Peace and Reconciliation (CPR) has trained and offered continuing education to professionals in the field of conflict intervention with our specially developed and internationally acclaimed Integrated CounsMed ® Methodology. Professional certifications are offered at the Foundation, Advanced, and Professional levels; and plans are far advanced to offer a Masters degree in collaboration with a public university.
Our programmes and training services area have benefitted families, communities, churches and many other bodies such as the Ghana Police Service, traditional rulers, Government Ministries, the Judiciary, and institutions of higher education. Please contact us to learn more about upcoming professional training events near you.
CONTACT US
Please note that appointment times are 9-11 AM and 3-6 PM from Tuesday to Friday.
Mempeasem
East Legon
Accra, Ghana
024 490 7190
030 254 1854